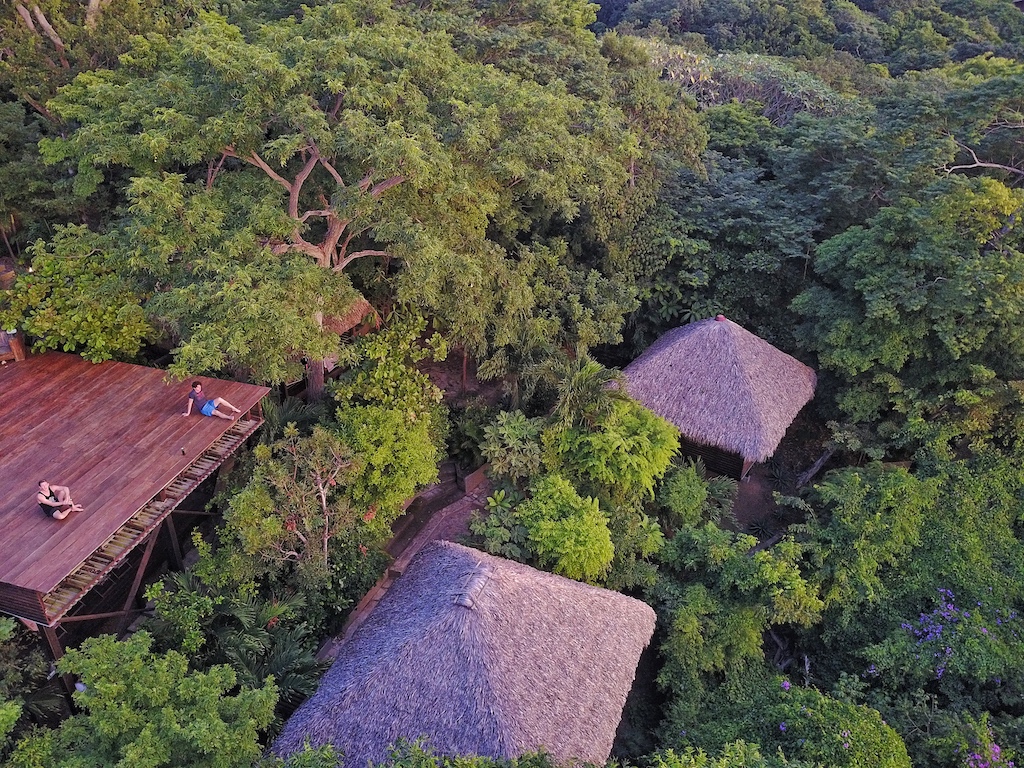 THE ECO-LODGE
You will find Buena Vista Surf club off the beaten path in the pacific coastal hills of Nicaragua. Our cozy, palm-roofed Nica rancho opens onto an infinity deck that hovers amongst the treetops looking out over Playa Maderas. At our eco-lodge you will find yourself in the midst of comfort, surrounded by beautiful tropical plants and exotic animals. There are couches for lounging, tables for playing boardgames, and beanbags to drag out onto the deck for sunbathing and stargazing.
At Buena Vista Surf Club we encourage a digital detox. After all you are amidst some breathtaking Nicaraguan nature. But for those who want to check-in with home, we have wifi access in the main lodge. Yoga is taught on our open air infinity deck. There is also a lower deck that is perfect for a shaded siesta in one of the hammocks or some yoga on a rainy afternoon.
Cabañas
Our six cabañas at Buena Vista Surf Club are built of hand-cut local Nicaraguan wood and are carefully situated in a way which have minimal impact to the environment. The calming interior accentuates the stunning nature and exotica which lies outside each cabaña.
All six cabañas are very much a like, they offer a simple and rustic, yet beautiful interior. We have set up each cabaña with comfortable box-spring beds which can be prepared into 1 queen bed or 2 single beds. All cabañas are equipped with fans and mosquito nets and have their own private bathroom. We provide beach towels which you can take with you to Playa Maderas, bottled water, and body wash.
OUR RATES
Our rates change throughout the year. Please contact us directly for more information.
If you would like to have dinner at the hotel, please notify us 24 hours in advance. Dinner is 15USD extra per person. Click here to find out more about our food!
Interested in a group booking or retreat? Find out more here or message us!